---
The Variety Cruises passion remains unchanged since 1968: an alchemy that blends enriching oneself educationally and exploring the true identity of a destination, while enjoying the comforts and unique benefits of a small ship sailing the seas.
Today, Variety Cruises has grown to operate 11 Mega Yachts and Motor Sailers. Our small ships currently serve handpicked cruise destinations worldwide including Greece, Italy, Turkey, the Canary Islands, the Adriatic Sea, Cape Verde, the Seychelles, Costa Rica & Panama, Cuba, and soon Madagascar & Iceland.
We look forward to welcoming you aboard one of our ships soon and discover the world the Variety Cruises way.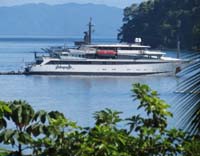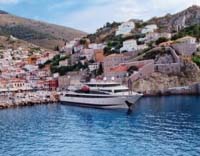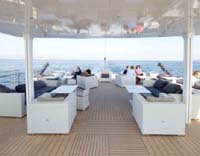 A Variety of cruise experiences for all tastes
Variety Cruises offers life enriching journeys for the inquisitive mind. We promise to offer you a truly unique opportunity to savor the great cultural, architectural, historical and natural diversity of the Mediterranean Sea and other cruise destinations. Our fleet of small ships can take you off the beaten track, to enjoy the intimacy of unfrequented destinations or the cosmopolitan ports of the World.
For us it is very important to provide our passengers with memorable and intimate cruise experiences. That's why what makes us different is that we combine a private yacht/small ship type of on board experience with a destination focused journey. You will be able to explore and learn the secrets of all visited destinations with easy access to their local life. The sea is always a few meters away as you will always be able to swim off a Variety Cruises ships in a secluded bay
A Variety of cruise Programs
Our ships operate charter cruises and over 13 scheduled itineraries to top cruise destinations, including Greece, the Adriatic, Turkey, the Seychelles, and our fantastic new cruise programs to Costa Rica & Panama, the Canary Islands, and last but not least Cuba, with prices for all budgets.
A Variety of ships
If you are looking for a cruise on board a small ship with discreetly attentive service and relaxing contemporary sophistication, then the only thing you have to do is to select the ship that suits you best. If you want to cruise on a modern vessel with sleek high-tech look, classy dining rooms and space sun decks, very similar to the private yachts found in the most famous world ports, then the M/Y Variety Voyager, M/Y Harmony V, M/Y Harmony G, M/S Panorama and sister ship M/S Panorama II are the best choices for you. If a relaxed and congenial atmosphere is your first priority, then M/Y Pegasus and M/S Galileo will let you more than satisfied. We are really proud to introduce our 2012-built Variety Voyager, an incomparably comfortable and elegant vessel that seduces you with its sleek lines and ample deck space. If you are looking for that special touch of a private millionaire's yacht, then Variety Yachting has a classy motor yacht or a sailing yacht just for you.
THE VARIETY CRUISES DIFFERENCE
Private Yacht Cruise Experience, with up to 72 fellow passengers
Boutique-size yachts that dock right in the heart of destinations that large ships cannot reach
Carefully crafted itineraries focused on the destination
Ample leisure time in each port including overnights
Mediterranean fusion cuisine with a strong local influence depending on the destination
Personalized service on board provided by experienced and finely trained crew
Small group shore excursions – Immersion in the destination
Swimming platforms allowing guests to swim, snorkel, kayak and more
Yacht Deck Barbecues & Private Events on shore
---